Offer


Contact
Orion AS
Kårvikveien 121
9307 Finnsnes
Tel.: 4798444999
E-mail:
profil@or.no
ADVERTISING CANDLES CANDLESPHERE

The unique story of a unique gift
Before our candles were created, after many years of practice and experience of building brand awareness and recognition by decorating advertising ceramics and glass, an idea emerged to offer customers a new, specialway to distinguish their brand.
It was not supposed to be another popular gift, but something original, magical, which allows for unique customization, and at the same time impresses with its spectacular form and advertising effectiveness.
This is how the Candlesphere brand was born, and with it the unique advertising candles.
Enlight your brand with an impressive promotional gift

Candlesphere candles are among the few gifts that affect up to 4 senses: sight, smell, touch and hearing, while creating a magical mood, which makes them one of the most effective advertising gifts.






Make your brand stand out. Sparkingly

When you enter the world of Candlesphere, you get unlimited possibilities in terms of standing out, branding and customization.

You can surprise your client: with a wide range of beautiful glass forms, the richness of glass coloring and decorations, filling made of vegan and very trendy soy wax or paraffin, which can be additionally colored.

What will further distinguish the gift are: customization with a unique and durable aroma from three fragrance groups and - additionally - perfectly matched packaging, which can also be consistent with branding.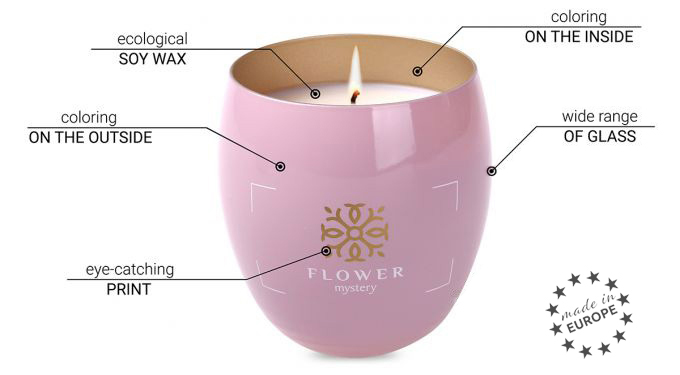 A wide range of original glass forms

Get inspired by the multitude of spectacular glass forms and choose the perfect one to promote your client's brand.
Choose from many different shapes and individual wall thicknesses to create a unique gift.
Unlimited possibilities of glass coloring

Let your imagination run wild and cover the candle with any Pantone shade. In addition, you can choose one of the phenomenal coloring effects: stunning gloss, noble matt or elegant Soft Touch.
A wealth of creative decorations


Give the candle a unique character, consistent with the idea of your client's brand thanks to our spectacular decorations.
Among them you will find noble sandblasting, an exclusive metallic effect or interesting forms of printing.
What will be the perfect heart of your candle?
Ecological, vegan soy wax or paraffin with the possibility of coloring in one of 15 shades - give your client the opportunity to customize the filling in accordance with his preferences.
| | | | | | | | |
| --- | --- | --- | --- | --- | --- | --- | --- |
| | | | | | | | |
| 01. white | 02. yellow | 03. honey | 04.orange | 05. red | 06. pink | 07. lilac | 08. violet |
| | | | | | | | |
| 09. plum | 10. navy | 11. light blue | 12. light green | 13. gray | 14. brown | 15. black | |
Create a magical atmosphere thanks to fragrance customization

Thanks to advanced technology and high-quality fragrance oils, you are guaranteed that your customer will enjoy the captivating aroma throughout the lifetime of the candle. What's more, you can perfectly match the aroma of the candle to the philosophy of the promoted brand.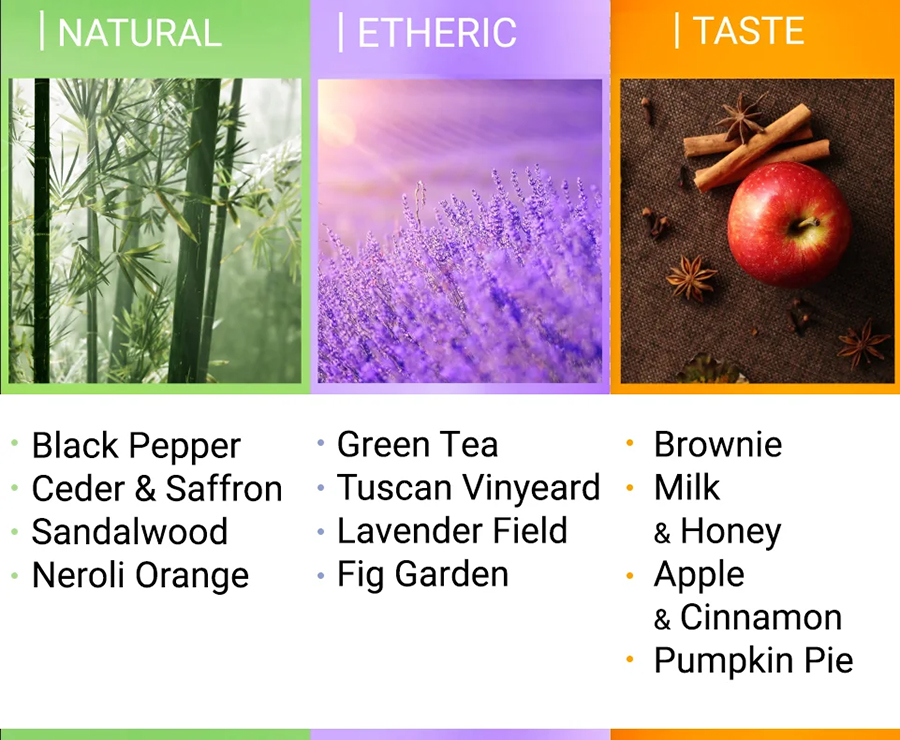 How will you dress up your values?

The possibility of customizing the packaging gives your customer an additional option in terms of logo placement and brand values.
In addition, the packaging perfectly matched to the candle placed in it will make an amazing impression on the recipient.
For ECO Trendsetters

We know how important high quality and care for the environment are for you, which is why when creating our candles, we rely on the best ingredients.
We choose what is responsible, not the easiest.
We use proven suppliers who share similar values.
By composing a candle with a vegan filling, 100% organic soy wax, you care about the environment.



Don't forget about security

All Candlesphere candles have safety instructions in accordance with applicable standards and meet international standards confirmed by the SGS Certificate.
In addition, our products meet the RAL standard for all components.
Do you value European origin?

All our candles are made in Poland.
We try to ensure that all the components we use come from European, proven manufacturers.






Double power of effective branding

Strengthen your marketing message with a masterful fusion of two highly effective gifts.
Combine a unique candle with a reliable mug and rise above the competition.
Compose a unique candle and distinguish the brand in a phenomenal way


Now you can offer your customers a unique carrier of ideas that guide their brand, which will delight with its appearance, smell, quality of preparation and the values it brings.
Candlesphere is not only candles that stimulate the senses and create a magical mood.
Candlesphere is also a unique and effective brand distinction.
For your client.
Discover products from Candlesphere range: